The teaching and learning evaluation system
Simple and easy to use Evaluation and Performance management system
Evaluate
Employee performance evaluations are often tedious and time consuming. The Eval system electronically manages evaluations and daily observations, simplifying the process for the evaluator.
Analyze
Better decision-making, pure and simple...With Evals simple to use interface, let the data help drive your decisions with both high-level overviews and drill-down information.
Store
Annual, semi-annual, monthly or daily, whatever your process is, Eval provides you with safe, easy to access storage for all your evaluations and observations.
---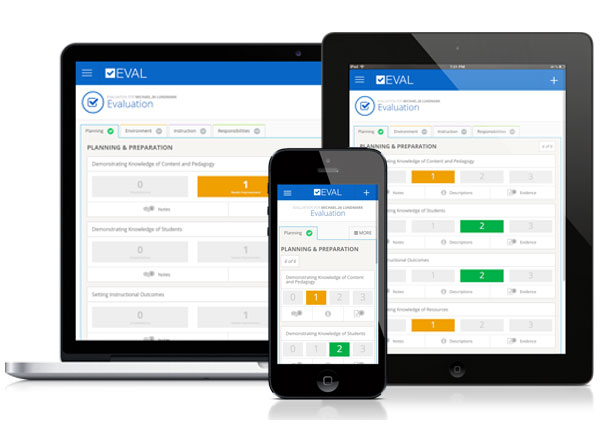 Access
Never search for a paper evaluation in a file cabinet again! All past evaluations are accessible at any time in one centralized, organized, online system. Eval is a turnkey evaluation and performance management solution, with an intuitive and simple user interface accessible from any web connected device.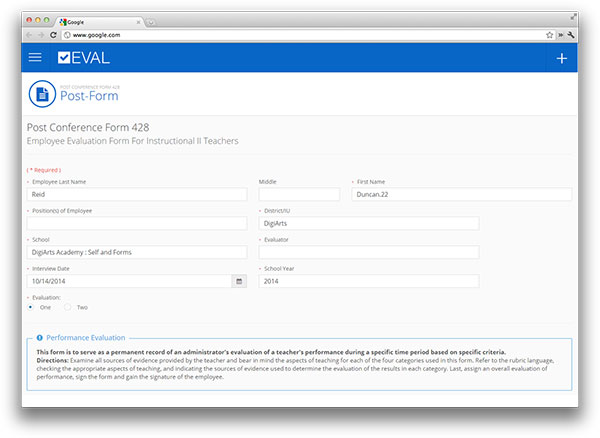 Process
With our completely configurable workflow, a support staff to create custom forms, custom e-mail notifications and reminders, employees are instantly made familiar and kept in the loop at all times. The evaluation process is customized and simplified so much it practically runs itself.
---
Eval Features
Email Reminders Keep Users Involved
While you're busy running a day-to-day operations it's easy to put performance appraisals on the back burner. Our gentle, targeted email reminders help make appraisals a brief weekly or monthly task instead of an end of the year headache.
Use Notes to Document Events
Performance Management means continuous, year-round communication. Eval uses notes –from employee to manager and back—to foster on-going communication.Notes taken throughout the year are displayed when scoring the evaluation so ratings reflect year-round performance.
Powerful Reports Give Insight
After using Eval for a while, you will have a wealth of rich data at your fingertips. Use it to gather organizational insights, track performance over time, uncover any rater bias, and compare employees to identify and reward your superstars.
Completely Custom Forms
You provide the content and industry expertise and we quickly build the forms that are exactly what your organization needs. Every element on the form is exactly the way you want it and you can create as many forms as needed.
Support
Prepare, Implement, Optimise and Support. Our 4 step process ensures adoption by your organizations. A dedicated consultant will walk you through every step and you'll receive a blend of on-demand and customized leader-led training
Devices
The power of access in todays work enviroments is essential. Eval is designed to work accross devices increasing managers productivity, enhancing employee engagement and providing a positive experience for greater organizational adoption.